Are you ready to ignite learning experiences and change behavior?
Delivering training is more than presenting to a group of people, hoping they catch and apply the concepts you quickly lob their way. It is an art that engages adult learners, sparks collaboration, and helps them assimilate concepts ready to apply to their real-world experience.
Whether it is an in-person, virtual, hybrid, or blended class, we have been applying best practices for this ever-changing terrain.
We are certified and authorized seller of the Everything DiSC Workplace tools, including The Five Behaviors of a Cohesive Team and TRACOM Group's Social Style® Profile.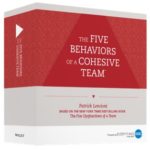 What to see what ZPS can do for you?
Check out our upcoming public courses, or contact us today to discuss our facilitation offerings.