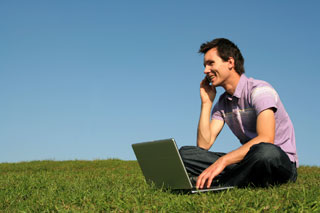 What if you want the benefits of working virtually, but you also want to be able to benefit from the collaboration, networking and relationships that can be fostered in an office? Let's take a look at a great new option.
Coworking offers another very attractive pathway to success for virtual workers.
Although they come in a variety of sizes and arrangements, a coworking space is typically a shared work environment where creative individuals, entrepreneurs and freelancers work alongside one another. The best coworking spaces provide multiple opportunities for individual workers and teams to interact and collaborate on projects and new ideas.
One such space that we really admire is Scrib, located in the heart of downtown Boulder. Scrib provides desks, an internet connection, conference rooms, a coffee and tea bar, and other office services and benefits in three tiers—permanent, "mobile" and drop-in—and at monthly rates far below typical commercial office rents. But that's not all it provides virtual workers.
Scrib members have access to networking, knowledge-sharing, mentors, professional and social events, and a vibrant community of collaboration where workers can take their new ideas and visions to the next level. The Scrib community fosters "productive collisions" between individuals to help them accelerate their businesses and projects.
The space brings results: Managers of virtual employees can take heed of recent studies showing that people are more productive and feel less isolated in coworking spaces. And the trend is blossoming: With more than 1,300 coworking spaces operating worldwide at the start of 2012, virtual employees are finding an increasing number of viable "work homes" in coworking spaces like Scrib.
For more information, check out www.scrib.co.