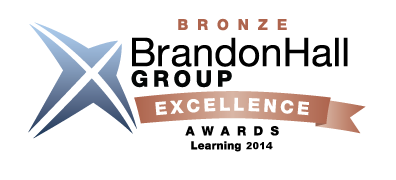 DENVER, CO (November 24, 2014) – Zenith Performance Solutions, a leading provider for innovative eLearning and training, is the recipient of the Brandon Hall 2014 Bronze Award for Excellence in the Best Custom Content category. The award is in honor of a custom course, Diving into Distressed Properties, created for customer RE/MAX, LLC.
The Best Custom Content category is for self-paced, custom-designed online courses related to workplace learning. Awards are given based on the judges' assessment of navigation, content presentation, use of media, interactivity, and engagement and support of training objectives.
In its 20th year and one of the most prestigious awards program in the learning and development industry, the Brandon Hall Group Excellence Awards Program honors companies that have successfully developed and deployed programs, strategies, modalities, processes, systems and tools that help businesses achieve measurable results.
"This award is a direct result of the forward thinking of RE/MAX to identify distressed properties as an agent training need due to the national economic recession and our collaboration with great subject matter experts from the field, employees at RE/MAX, and a talented team of instructional and graphic designers," said Dani Watkins, President/CEO of Zenith Performance Solutions.
"I'm honored to recognize this group of elite organizations with phenomenal programs across HCM functions. The winners truly exemplified excellence around the critical business dimensions across the award categories, including a high standard of performance in their organization and demonstrated clear, measurable business results through these innovative programs," said Rachel Cooke, COO of Brandon Hall Group.
The entries were evaluated by a panel of veteran, independent senior industry experts, Brandon Hall Group Sr. Analysts and Executive Leadership based upon the following criteria: fit the need, design of the program, functionality, innovation, and overall measureable benefits.
A complete list of all 2014 Brandon Hall award winners are available online.